Honda Rotavator
In-depth Honda rotavator reviews and information.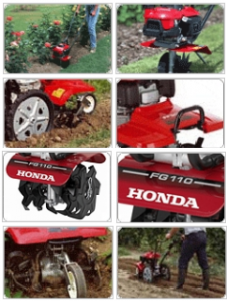 Honda have developed a large range of rotavators that will suit most gardeners. With Honda Rotovators ranging from very small models right up to the large proffessional models giving every gardener a suitable mower (at the right price!).
Unlike a lot of rotavators that you can buy Honda rotavators are actually very easy to use. Being very lightweight, strong and having the best engines available means that a rotavator by Honda will quickly and easily dig your soil.
It's well known that Honda produce some of the best Rotavators, along with Mantis rotavators they are the best on the market. Many of the rotavators that Honda make come with a 5 year warrenty which proves just how reliable these Honda models are.
Below is a list of the current Honda rotavator reviews…
Small Honda Rotavators

Medium Honda Rotavators

Large Honda Rotavators