Mantis Rotavators
The popular range of Mantis rotavators include small, low-cost, easy to use tillers that are ideal for the garden or allotment!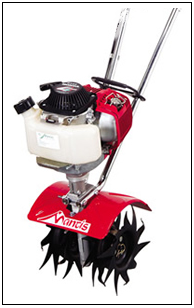 Mantis are a great company who over the years have sold a million rotavators across the globe. The mini tillers that they have are extreamly popular and ideal for those who have a small garden, medium sized plot of land or an allotment.
In the mini tiller series, they have three different models, these three models are the Mantis 2 Stroke Petrol Cultivator, Mantis 4 Stroke Tiller and Mantis Electric Tiller.
Mantis rotavators are designed specifically for home gardeners, they don't sell any large proffessional rotavators. These small tillers will rotavate your soil and make even the toughest of soils perfect for planting your seeds and plants in.
All the rotavators in the Mantis range come with a one year warrenty. If after a year you don't like the rotavator Mantis will let you return it for a full refund.
Current Mantis rotavator reviews…
Mantis Electric Tiller/Cultivator
Mantis 2 Stroke Petrol Cultivator
Mantis 4 Stroke Tiller
The Mantis 2 stroke rotavator is a basic model to work in a garden. This is a light weight product with a 2 stroke engine and can be used for digging. Along with several extended accessories, this can turn into a very powerful tool to work with. It can take care of a lot of other little jobes in the garden with the extra accessories: planter, border edge attachment, crevice cleaner, and lawn care attachment. The working width is 10 inch.
With a Honda engine, the Mantis 4 Stroke Tiller is a strong tool to work on rough soil. It can till up to 10 inch deep and cuts through solid soil, extended weeds and hard sod. With the compact handlers, the machine is very easy to control and move around the area you are working. You can use the same accessories with the Mantis 4 Stroke Tiller mentioned before. The control of this tool is very simple and the user can move it around without any difficult.
Mantis Electric tiller will give you an effective cultivating result. This machine does not create too much sound while working; creating a nice working environment. The reversible tines can go as deep as 25 cm. the powerful blades can cut through hard sod. This light weight tool can be moved between the beds with ease work. The accessories can be attached with this tool too. The working width is only 9 inch which gives perfect result in working on the vegetable bed.